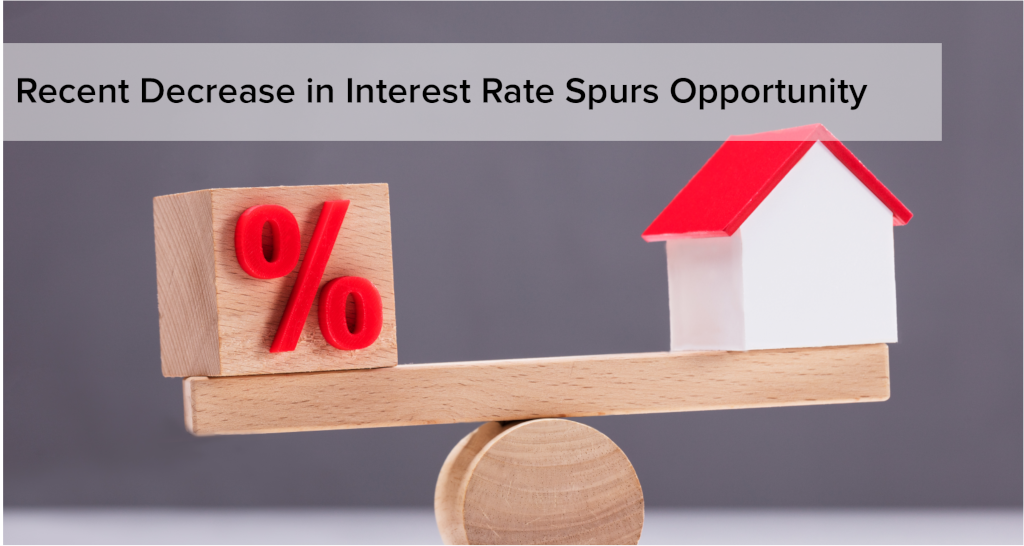 Most recently, we have experienced an uptick in market activity. In fact, in King and Snohomish counties we saw a 53% increase in pending sales from December to January. While it is seasonally normal to see activity increase at the first of the year, it was 16% higher than the previous January. This increase is being driven by multiple factors, such as our thriving economy and job market, price acceleration softening, and the recent decrease in interest rates.
Currently, rates are as low as 4.5% for a 30-year fixed conventional mortgage – 0.75 points down from the fourth quarter of 2018. In fact, the interest rate in November was the highest we've seen in five years!  The current rate level is the lowest we have seen in a year. This is meaningful because the rule of thumb is that for every one-point increase in interest rate, a buyer loses ten percent in purchase power. For example, if a buyer is shopping for a $500,000 home and the rate increases by a point during their search, in order to keep the same monthly payment, the buyer would need to decrease their purchase price to $450,000. Conversely, for every decrease in interest rate, a buyer can increase their purchase price and keep the same monthly mortgage payment.
Why is this important to pay attention to? Affordability! If you take the scenario I just described and apply it to the link above, you can see that the folks who choose to jump into the market this year will enjoy an interest cost savings when securing their mortgage. This lasts the entire life of the loan and can have a huge impact on the monthly cash flow of a household. This cost savings is also coupled with a slow-down in home-price appreciation. Complete year-over-year, prices are up around 8% in both King and Snohomish counties, but note that from 2017 to 2018 we saw a 14% increase. Price appreciation is adjusting to more normal levels and is predicted to increase 4-6% in 2019 over 2018.
As we head into spring market, the time of year we see the most inventory become available, the interest rates will have a positive influence on both buyers and sellers. Naturally, buyers will enjoy the cost savings, but sellers will enjoy a larger buyer pool looking at their homes due to the demand the lower rates are creating. Further, would-be sellers who are also buyers that secured a rate as low as 3.75% via a purchase or re-finance in 2015-2017, will consider giving up that lower rate for the right move-up house now that rates are not as big of a jump up as they were during the second half of 2018.
This recent decrease in rate is making the move-up market come alive. What is great about this, is that it opens up inventory for the first-time buyer and helps complete the market cycle. First-time buyers are abundant right now as the Millennial generation is gaining in age and making big life transitions such as buying real estate. According to Nerd Wallet, 49% of all Millennials have a home purchase in their 5-year plan.
Will these rates last forever? Simply put, no! According to Matthew Gardner, Windermere's Chief Economist, rates should increase into the 5's in 2019. While still staying well below the 30-year average of 6.85%, increases are increases, and securing today's rate could be hugely beneficial from a cost-saving perspective. Just like the 1980's when folks were securing mortgages at 18%, the people that lock down on a rate from today will be telling these stories to their grandchildren. Note the 30-year average – it is reasonable to think that rates closer to that must be in our future at some point.
So what does this mean for you? If you have considered making a move, or even your first purchase, today's rates are a huge plus in helping make that transition more affordable. If you are a seller, bear in mind that today's interest rate market is creating strong buyer demand, providing a healthy buyer pool for your home. As a homeowner who has no intention to make a move, now might be the time to consider a refinance. What is so exciting about these refinances, is that it is not only possible to reduce your monthly payment, but also your term, depending on which rate you would be coming down from.
If you would like additional information on how today's interest rates pertain to your housing goals, please contact me. I would be happy to educate you on homes that are available, do a market analysis on your current home, and/or put you in touch with a reputable mortgage professional to help you crunch numbers. Real estate success is rooted in being accurately informed, and it is my goal to help empower you to make sound decisions for you and your family.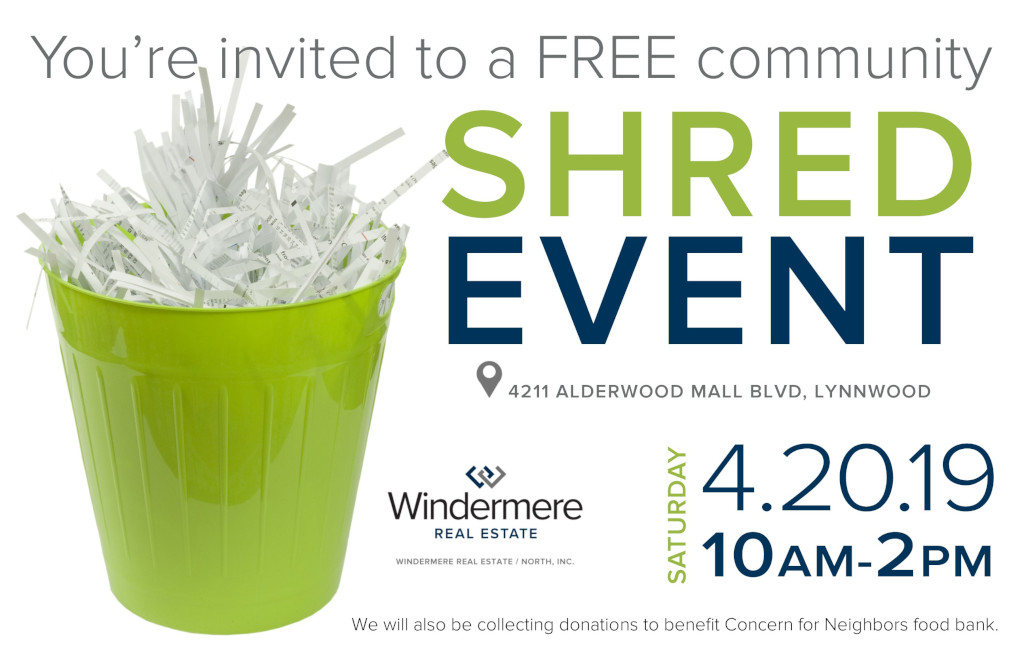 Celebrate Earth Day with us! Bring all your sensitive documents to be professionally destroyed on-site by Confidential Data Disposal. Limit 20 file boxes per customer.
We will also be collecting non-perishable food and cash donations to benefit Concern for Neighbors Food Bank. Donations are not required, but are appreciated.
Saturday, April 20th, 10am – 2pm.
4211 Alderwood Mall Blvd, Lynnwood 98036
*This is a shredding-only event. Only paper will be accepted – no electronics or recyclables.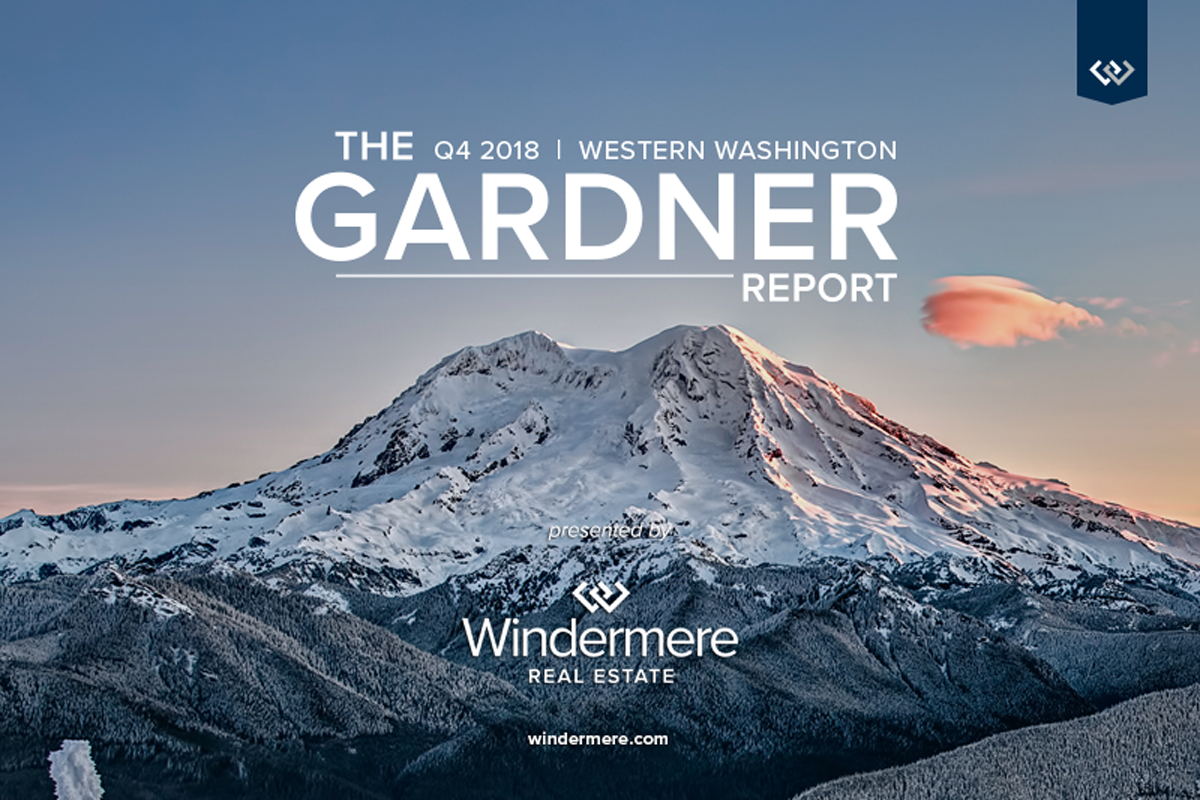 I am pleased to present the fourth-quarter 2018 edition of the Gardner Report, which provides insights into select counties of the Western Washington housing market. This analysis is provided by Windermere Real Estate Chief Economist Matthew Gardner. I hope that this information will assist you with making better-informed real estate decisions. For further information about the housing market in your area, please don't hesitate to contact me.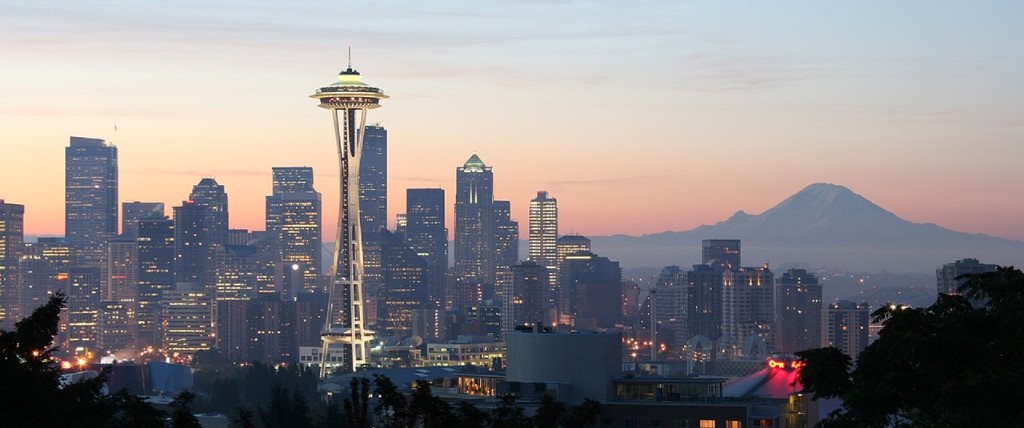 The headlines are everywhere proclaiming Seattle as the hottest housing market in the nation. Our humble city built on aerospace, trade, and influenced by a software engineer who donates millions, has found itself on the national map as the new darling of the tech world. Of course, this proclamation cannot go without mentioning the commerce juggernaut right in our own backyard, Amazon. I was told recently by Windermere's Chief Economist Matthew Gardner, that Amazon occupies 20% of all Class A business space in Seattle – that is a lot! It seems you cannot drive down I-5 between Shoreline and the Sea-Tac Airport without spotting at least 15-20 cranes busily building more of that office space. So why, Seattle? In contrast to California's Bay Area, the cost of living here (rents and real estate) is half – office space costs half and companies can provide the same wages. This combination puts more money in employees' pockets and companies are not as expensive to run, making profits higher. This has driven many companies to relocate or expand from the Bay Area to Seattle or Bellevue, markedly increasing the demand for housing.  This has put an even tighter squeeze on inventory, putting us in the most extreme Seller's market (0-3 months of inventory) we've ever seen. This has driven prices up, and values are hinging on commute times. Below is a chart that outlines the amount of available inventory based on pending sales measured in months and the median price in the month of March 2017.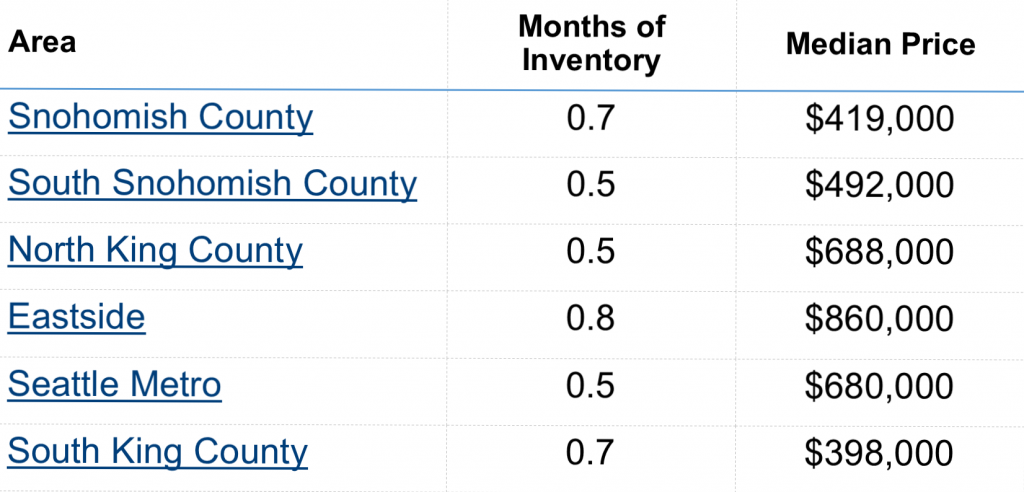 As you can see, there is a direct correlation between proximity to job centers (Seattle and Bellevue), and home prices. If you have considered selling your home and making a move, now is one of the most favorable times to do so. If you are considering a purchase, the environment is competitive but there are opportunities. Aligning with an experienced and knowledgeable broker who can help you properly strategize, is key. One might think it is simple to sell your home in this market, but getting top dollar, strong terms, and a sale that will pass appraisal is the ultimate goal, and takes a high level of communication and nuanced negotiations. The same applies for buyers, along with education and a refined process, which helps empower buyers to make informed decisions and win. Our city is changing, and whether one thinks it is for the good or the bad is up to them, but this is our new reality. Seattle is beautiful, prosperous and full of opportunities for those who choose to call it home. Like any opportunity, it needs to be properly analyzed, considered, and ultimately seized. If you are curious how your home measures up in today's market please contact me, I'd be happy to provide you a complimentary market analysis to help keep you informed, or sit down and chat about the steps of a successful home purchase.